Staigue Stone Fort
Wednesday, 10th October 2007 by Alex Turnbull
This is the Staigue Stone Fort, a beautiful round Iron Age fort located in County Kerry, Ireland. Although exact dating is difficult, this fine example of an Irish ring fort could be up to 2,000 years old.
The walls are up to 5.5 metres high and 4 metres thick, and impressively it was built without the use of any mortar, using undressed stones. Even better though, if you visit in person you're actually allowed to climb the steps and parade around on the ramparts!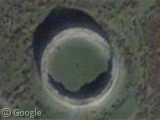 There might be as many as 60,000 ring forts in Ireland1, many of which were only discovered thanks to the advent of aerial photography.
So it shouldn't be too hard to find yourself an undiscovered one then, huh?
Read more at Wikipedia. Thanks to Paul Woodard.