Win a free book!
Wednesday, 13th December 2006 by James Turnbull
Updated: The competition has now closed! Good luck if you entered, and sorry if you missed it.
We're giving five lucky readers an early Christmas present by giving away five free copies of the new GoogleSightseeing.com book! Signed by the authors of course 😉
All you have to do is visit the Book Page and fill out the form to be in with a chance of winning a copy. The five winners will be chosen at random, and the competition closes on Wednesday December 13th. Good luck!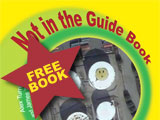 We'll ship the prizes anywhere in the world for free, but entering more than once won't increase your chances of winning a book, duplicate entries will all be weeded out! You know who you are…