20 Years of a Free Nelson Mandela
Thursday, 11th February 2010 by Alex Turnbull
Exactly 20 years ago today, on the 11th February 1990, the anti-apartheid activist Nelson Mandela was released from a 27-year incarceration in an event that was broadcast live all over the world.
The South African courts convicted Mandela on charges of sabotage committed while he led the military arm of the ANC in their struggle against apartheid.
In 1964, Mandela began his sentence on Robben Island (which we covered in detail last year), where he spent the next 18 years.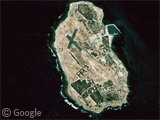 In March 1982 Mandela was transferred from Robben Island to Pollsmoor Prison, south of Cape Town, where he was held at the maximum security building, which is today known as the admission centre. He described Pollsmoor Prison as "the truth of Oscar Wilde's haunting line about the tent of blue that prisoners call the sky."1
In 1988 Mandela was moved to Victor Verster Prison, a low security farm prison that was often used as stepping stone for releasing lower-risk political prisoners. It was here that the world's media gathered to record the moment that Mandela was finally released, 27 years after he was first imprisoned.
Of course that was just the beginning. Following his release, Mandela helped lead the way towards multi-racial democracy in South Africa, won the Nobel Peace Prize in 1993, and in 1994 became the first President of South Africa to be elected in a fully representative democratic election.
Today there are roads, squares and statues of Nelson Mandela all over the world, all standing as testament to the positive change he helped make possible. This is Nelson Mandela Gardens in Millennium Square, Leeds, and a statue of him in Parliament Square, London.
Sandton Square in Johannesburg was renamed Nelson Mandela Square, and features a 6 metre statue of the former president. Sadly there's no Street View, but you can actually just about see the statue in the satellite imagery, right in the centre of our thumbnail image (ground-level photo).
In November 2009 the United Nations General Assembly announced that from 2010 the 18th of July, Mandela's birthday, would be known as 'Mandela Day' to mark the enormous importance of his contribution to world freedom.