Xscape, Milton Keynes
Tuesday, 12th December 2006 by Alex Turnbull
Is that a mountainous Trimaxion Drone Ship1 hovering above Buckinghamshire, England? Sadly not – this is actually the Milton Keynes Xscape, one of three leisure centres in the UK which contain, well – mountains.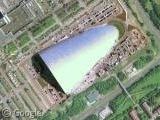 Xscapes are centered around a real-snow indoor ski slope, and this particular one is also designed to look like a snow-covered hill. It's also the location of a 16 screen cinema, shops, a climbing wall, bowling lanes, bars, a fitness center, and somewhere round here's there's also an indoor skydiving centre! Very, very cool.
1) Whaddya mean you've never heard of a Trimaxion Drone Ship? Sheesh! It's the spaceship from The Flight of the Navigator!