Image Update February '07
Thursday, 1st March 2007 by Alex Turnbull
While we were busy scouring the brand new Australia Day images, we failed to notice that Google have also unleashed an absolute wealth of new imagery for the rest of the world! Here's what's been updated: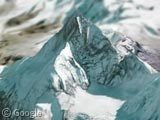 The entire country of Denmark at 50cm
The French cities of Lyon; LeMans; Lourdes; Riems; Nancy; Limoges; Lille and Arles
Potsdam and Magdeburg, Germany
Barcelona, Belem, CapeTown, Galapagos (Isabella Island), Manaus, Mt Saint Helens, Recife, Rio, Venice)
Whistler, British Columbia
The whole states of Wyoming and Utah
It seems here's also been loads of other Digitalglobe updates too, so what on earth are you waiting for? Get exploring already, and send us what you find!
Thanks to Google Maps Mania and the Google Earth Blog!