The Cutty Sark
Monday, 21st May 2007 by James Turnbull
The Cutty Sark was the last of the extreme clippers, built in 1869 to transport tea from China.
Probably the most famous ship in the world, the Cutty Sark was this morning severely damaged by a large fire, which police are treating as "suspicious".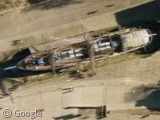 Luckily the masts, which can still be seen in the aerial photograph, had already been taken off the ship to be restored elsewhere so were not damaged in the blaze.
BBC News has the latest on the boat.
Thanks: Phil Britton & Dee