Pitcairn Islands (Island Week 2)
Tuesday, 28th August 2007 by James Turnbull
(It's Island Week 2 here at GSS, which means we'll mostly be posting about Islands. For about a week.)
The Pitcairns are a group of four islands: Pitcairn, Henderson, Ducie, and Oeno, which are all located near New Zealand in the Pacific Ocean.
The islands are classed as a British overseas territory and have an official population of just 48, making them the least populated jurisdiction in the world.
All 48 of the islands' inhabitants, who are just 9 different families, live in Adamstown on the main island of Pitcairn. Adamstown is therefore unchallenged as the capital city, and with that title earns the record for World's smallest capital city.
The population is unlikely to rise anytime soon; the islanders mostly descend from British mutineers of the HMAV Bounty and only two children have been born in the last 21 years.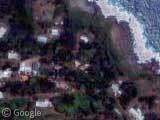 Wikipedia Links: Pitcairn Islands and Adamstown.
Thanks: koen & tizerst