Dropped Cone
Monday, 5th November 2007 by James Turnbull
The resolution on Google Earth is amazing these days! Just look at the clarity on this dropped ice-cream cone in Cologne's Neumarkt!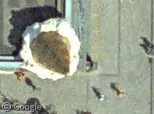 As the ant-sized people have probably already given away, this isn't an ordinary ice cream cone - it's actually a 10m tall piece of art which has been dropped onto the corner of a shopping centre.
But what I find truly amazing is that they managed to transport the giant cone all the way from Petaluma, California without it melting...
More information and pictures on the artist's website.
Thanks: Virtual Globetrotting