Scottish Parliament Building, Edinburgh
Thursday, 15th November 2007 by Alex Turnbull

The Act of Union, passed in 1707, created a political union between the Kingdoms of Scotland and England, meaning that Scotland was directly governed from London for 292 years. In 1997 a referendum of the Scottish people approved the re-establishment of a directly-elected Scottish Parliament. Matters such as education, health and prisons, which used to be dealt with by the Parliament at Westminster, are now decided in Scotland.
The first elections to the Scottish Parliament were held in 1999, the same year that construction began on the building that would be the parliament's future home.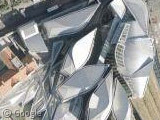 Designed by the late Enric Miralles, the Parliamentary complex is actually a campus of several buildings, reflecting different architectural styles, with a total floor area of 31,000 square metres.
From this aerial vantage point we can clearly see some of the more striking features of the buildings, such as the 30-metre-long elliptical debating chamber (which contains no supporting columns thanks to a roof fabricated in part by Scottish oil industry welders), as well as the stunning leaf-shaped roof-lights on the Garden lobby and their supporting internal structural lattice of solid oak struts.
As well as being a strikingly adventurous government building, the Parliament also sets new standards in environmental sustainability. A minimum of 80% of the electricity purchased for the building is required to come from renewable sources, and from above we can clearly see the solar panels set into the roof of the Canongate building. These solar panels are used for heating water in the complex, of course this can lead to overheating in the summer, so the building employs a computerised management system which senses the temperature in different parts of the Parliament, and automatically opens windows to keep the building cool.
The Scottish Parliament Building is open to visitors all year round, and you can read more about its often highly controversial history at WIkipedia.