The Houses of Parliament
Wednesday, 3rd May 2006 by
It's great when you realise we haven't posted classic sites like this. These are the UK Houses of Parliament or technically the Palace of Westminster. Most people will recognise Big Ben which is actually the name of the largest bell in the Great Clock of Westminster at the north eastern end of the building.
The actual clock at the top of the tower was once the biggest in the world and able to strike the first blow for each hour with an accuracy of one second. The actual face of the clock is an iron framework 23 feet in diameter supporting 312 pieces of opal glass similar to a stained glass window. On each of the four clock faces is the latin inscription "DOMINE SALVAM FAC REGINAM NOSTRAM VICTORIAM PRIMAM" which means "Lord save our Queen Victoria I".
It has of course featured in many, many films perhaps most famously at the climax of The Thirty-Nine Steps or more recently in the awesome V for Vendetta.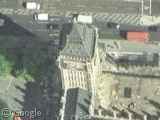 Thanks: Keith T, Andy, Terry Foster, Paul Falstad, Sergio Giraldo, Maciek Godlewski, MDW, Phil and Fiona, Phil Harper, pradera & Will S. (blimey!)