Mother Motherland (Rodina Mat), Kiev
Thursday, 4th May 2006 by Alex Turnbull
This is Kiev's Mother Motherland statue (Rodina-mat), one of a series of statues erected by the old Soviet Union to commemorate their victory in what was known there as the Great Patriotic War - which many people might know better as the Eastern Front of World War II.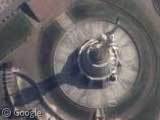 This statue is an absolutely massive 102 metres tall (although 40 metres of that is actually plinth). However at 62 metres its still flippin' huge, and the statue itself supposedly weighs something approaching half a million kilos. I found a photo on flickr which begins to give you an idea of scale, and also clearly demonstrates that the Soviet Union appears to have been engaging in a certain form of flattery.
For those of you still paying attention, her plinth is 7 metres taller but she's actually 16 metres shorter, meaning that Kiev's Mother Motherland wins in terms of height if not in recognition.
Thanks to BBC2.
P.S. No, I'm afraid this one isn't on Google Maps yet :-/