World's Largest Fingerprint
Wednesday, 5th December 2007 by Alex Turnbull
Somebody must have committed a major crime, as it would appear the Brighton and Hove arm of the Sussex constabulary have been dusting for prints around Hove Park, and uncovered what is clearly the the world's largest fingerprint!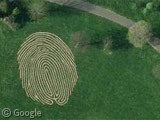 This fingerprint measures around 38 metres, which suggests that this criminal's size would make it slightly difficult for them to hide very effectively, right?
More information on the fingerprint.
Thanks to the eagle-eyed Anthony Houghton.