Thomas the Tank Engine Returns
Friday, 16th May 2008 by James Turnbull
When we last spotted Thomas the Tank Engine he was happily entertaining children on the Isle of Wight. People said things like "Best. Sight. Ever!", and we all reminisced about the favourite anthropomorphised train from our childhood.
Since those halcyon days, Thomas has relocated to the English seaside resort of Paignton where he has, distressingly, hit hard times.
The creaky blue locomotive now spends his days slumped in a corner at the back of the station car park, where locals report he is often seen glugging from a bottle of diesel and telling the platform attendants to "feck off".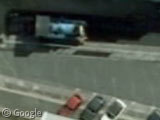 Thanks to Anthony Houghton.