Girl Flashes Chest at Street View Car
Friday, 16th May 2008 by Rob
It was inevitable. As people became aware of the Google Street View Camera Car, people were going to use it to get their five minutes of fame - now we have the girl who will forever be known as the first person to flash her chest at the Google Street View car.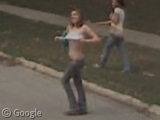 Thankfully for her, the main event was not captured, proving that even the most shameless behaviour still requires good timing!
In the past, we have had more opportunity-grabbing clowns, such as those who have been caught relieving themselves, people who attempt to perform complex bicycle stunts, and the man who made himself famous for giving the Google crew the finger. Perhaps an extension of their new face blurring technology is needed to curb these miscreants?