Teletubbyland
Thursday, 7th February 2008 by Rob
For those of you not familiar with cult 1990s children's television, Teletubbies was a program primarily aimed at 1-4 year olds which followed the life of four colourful characters, notable for their camp outfits and love of Tubby custard. The Teletubbies (Tinky Winky, Dipsy, Laa-Laa and Po) eventually became a worldwide success amongst children and 'grown-ups' alike, lasting 365 episodes before filming finally ended in 2001.
Their unique domed house in Tellytubbyland was actually in the middle of farmland in Warwickshire, England. The dome was 16 feet high - big enough to accomodate the Tellytubbies themselves, who ranged in height from 6ft 6in up to 10 feet tall. To help make the characters appear less enormous, the rabbits used in the programme were actually Flemish Giants - which can grow to over 20lbs!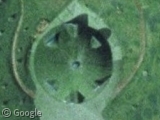 Sadly, the shame must have been too much to bear for the landowner, as this more recent Microsoft Live Map shows that he has since converted this fascinating historical site into a small lake instead.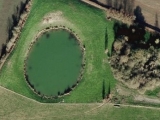 Here's a great article about the filming location.
Thanks: Cookie Monster, Greg M and Jasmine.