The Red Arrows
Tuesday, 12th February 2008 by Rob
Founded in 1964, the Red Arrows is the common name for the Aerobatic Team of the Royal Air Force. The team consists of nine BAE Hawk aircraft, with a tenth always carried to events as a backup.
The ten craft are found neatly lined up on one of Blackpool airport's runways. They now perform nearly every year at Blackpool, and are famed for their 9-plane diamond formation.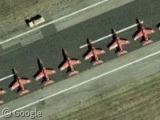 All of the pilots are volunteers, and only serve a three year term of duty - as such there are always three new pilots each year. The pilots will all have seen frontline RAF duty, and have had 1500 flying hours.
According to Wikipedia:
The Red Arrows have no reserve pilots, as a spare pilot would not perform often enough to fly to the standard required. If one of the pilots is not able to fly, the team flies an eight-plane formation. However, if the Team Leader, 'Red 1', is unable to fly then the team does not display at all.
At the Red Arrow's base, at RAF Scampton in Linconshire, another of the distinctive red planes is sitting on the tarmac by the hangars.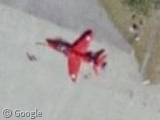 Meanwhile, a Folland Gnat, the aircraft the Red Arrows used before the Hawk, is on the grass and now acts as a gate guard for the base.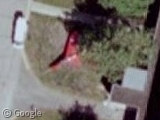 It is not unusual for British residents to see the Red Arrows fly past on their way to an event, as they generally travel at around 1000 feet to avoid the clouds or straying into flight paths.
More info on the Red Arrows can be found at their official site, and of course at Wikipedia. There is also a brilliant flickr photo pool of the team in action.
See our previous post, Planes Taking-off in Formation, for some possible sightings of other countries' aerobatic display teams.
Thanks: JosieNorden, Ollie Miller and Rob H.