Plane Convoy
Wednesday, 20th February 2008 by Rob
A strange procession is moving through the streets of Los Reyes Acozac in Mexico – the fuselages of not one, but two aircraft!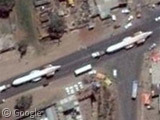 As they're roughly 100 feet in length, the giant plane bodies could be for Boeing 737s – but what would they be doing here? 737 fuselages are usually made in Wichita, Kansas, so it's a bit of a mystery why they would be in convoy through Mexico.
Discussions on the Google Earth community suggest the fuselages could actually be for McDonnell Douglas DC9/10s – which went out of production decades ago – so maybe they're being scrapped somewhere round here?
If they are scrap, hopefully they won't be abandoned on the road as happened to one Boeing 737 making its way through Mumbai traffic last year…
Thanks to carmedic.