Earth Day
Wednesday, 23rd April 2008 by Alex Turnbull
Today is Earth Day, a global observance started by US Senator Gaylord Nelson in 1970 as a nationwide protest intended to thrust the environment onto the political agenda. Considered the birth of the modern environmental movement, the continuing mission of Earth day is to raise awareness of and appreciation for the Earth's environment.
Hundreds of millions of people in around 175 countries will be taking part in events which have been organised at every corner of the globe, and you lot don't get out of doing your part either! Show your support for Earth day and leave a comment with a link to a globe of the earth, somewhere on Google Earth - like this great big one in Berlin.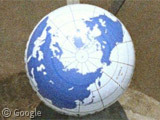 Check out the The Earth Day Network website for more information, and thanks to Tom Hooten for our starter globe.