World's Greatest Cunning Stunt
Monday, 21st April 2008 by Rob
Please note that some or all of the objects mentioned in this post are no longer visible on Google Earth or Google Maps.
We've all been there – the camera is on us, and we suddenly feel a burning desire to impress it. Sadly, not everything turns out how we plan.
Take for example this cool customer – he spots the Googlemobile cruising down his street, and decides his patented bicycle 'skid and turn' manouvre should be executed, maybe with the objective of sending a small puff of dust into the eyes of the unsuspecting driver.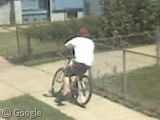 As our intrepid daredevil starts to make the turn everything seems to be going perfectly – but suddenly the stunt falls apart, and moments later he lies in a bizarre tangle with his two-wheeled friend.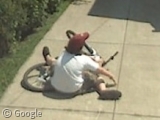 As the camera car moves on – rather heartlessly I might add – we see the boy in further distress as he presumably tries to free himself by way of a reverse roly-poly.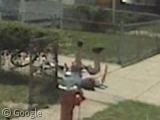 As the Google car continues on down the street the poor lad appears to be lying flat on his back, presumably regaining his composure. I do hope he was alright.
Thanks to Jason O and Streetviewfun.