Street View Comes Unstuck
Wednesday, 8th April 2009 by RobK
Even a company as all-powerful as Google occasionally needs a helping hand, as the driver of this Street View car in Australia discovered. Give him credit though: despite getting stuck in the mud, he kept his camera running to record the little drama that played out under the hot Outback sun…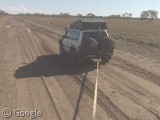 Our man got into difficulties on the remote Bourke-Wilcannia road, in north west New South Wales. In the early days of Australian settlement, the town of Bourke came to represent the western edge of civilisation, and the expression "back o'Bourke" is still used to refer to the wilds of the Outback. It's no surprise, then, that the road conditions can be far from ideal.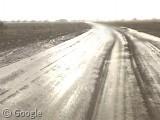 After battling bravely through the first flood, the Street View car finally gets bogged down in this patch of mud a few miles short of the small town of Tilpa1.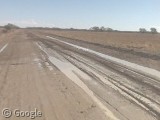 Cursing his luck, our driver makes a heroic effort to free himself, spinning the wheels and sending mud flying into the air, but to no avail.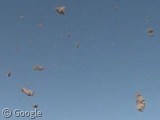 Luckily, help soon arrives, in the form of a vehicle that seems to be coping rather better with the conditions.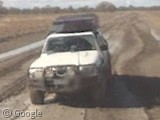 The driver of the 4×42 hops out to see what's happening, even crouching down to have a look at the wheels.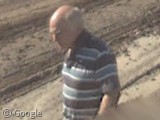 Good job he remembered to bring the tow rope – our man is freed to film another day. Sadly, he switched off the camera soon after he was pulled free, so we can't see what happened next. Let's hope he at least bought his knight in shining armour a cold beer.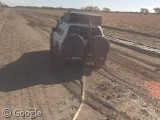 Thanks to Ken Arnold.
---
Although since the town itself apparently only has a population of nine, perhaps the driver didn't miss much. ↩

Who probably isn't Larry David, although it does look like him. ↩