National Botanic Garden of Wales
Tuesday, 15th April 2008 by Alex Turnbull
Near Llanarthney, Wales we find a serene scene of rolling green hills, well pruned gardens and a few grazing sheep. Then, sticking out like a sore thumb is the massive Great Glasshouse of the National Botanic Garden of Wales.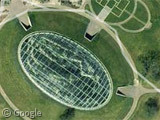 Designed by renowned British architect Sir Norman Foster, this is the largest single-span greenhouse in the world. 95m long and 55m wide, the roof contains 785 panes of glass and is partially built below ground level, so that it seems to "swell from the ground like a grassy hillock"…
The Great Glasshouse contains more than a thousand plant species – many endangered – and conserves specimens from warm climates around the globe including Chile, Western Australia, South Africa, California, the Canary Islands and the Mediterranean. If you zoom in close enough you can actually see some of the plant-life that is able to survive here thanks to this massive glass roof.