Stonehenge Replicas
Wednesday, 2nd April 2008 by James Turnbull
Earlier this week archaeologists began excavating Stonehenge in an attempt to decide once and for all exactly when this enigmatic monument was constructed.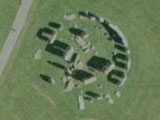 Stonehenge has most certainly been around many thousands of years, meaning there has been plenty of time for people to build loads of rip-offs and copies, most of them in the US.
Stonehenge II in Texas is a replica made from wire-mesh "stones" a bit like giant Papier-mâché. Strangely, the stones are about 90% the width of the originals, but only 60% the height – and if you make your way out to see the monument you'll find it's flanked by beer-bellied Easter island Moai. Obviously.
There's ground level pictures on Flickr and more information at Roadside America.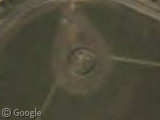 Our second Stonehenge replica is found at Missouri's University of Science and Technology is at least made of stone, this time made from 160 tons of granite carved with high pressure water jets. Sadly it's only ½ the size of the original.
There's also a ground level picture on Flickr.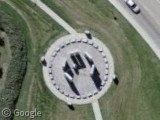 East Stroudsburg University in Pennsylvania have a small replica which they apparently dubbed "Stroudhenge".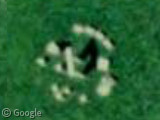 Montana's Stonehenge is located on a private golf course in Montana, and is claimed to be the most accurate replica ever built. But no-one's been able to confirm that as the golf club is so exclusive.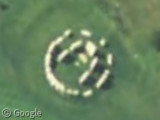 Lastly, it's difficult to see from the satellite photos, but Truckhenge whilst not a faithful reproduction certainly scores points through being constructed entirely in the medium of trucks. More info and pictures on Kansas Travel.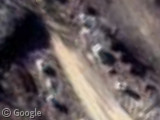 Thanks to Henderson Smith, James, FBK and others.
Previously on Google Sightseeing we've featured Stonefridge, Maryhill's Stonehenge, the Segway Inventor's Stonehenge and a little-known version in England simply called "Stonehenge".