The Donghai Bridge
Thursday, 31st July 2008 by Alex Turnbull
Such is the volume of new imagery that is added to Google Earth, that by the time we got around to posting the longest cross-sea bridge in the world, it had already been superseded.
Fortunately for us however, the current reigning champion was captured whilst still under construction, which means that we're able to bring you the longest cross-sea bridge on Google Earth, China's Donghai Bridge.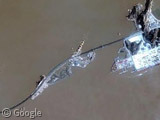 Measuring a whopping 32.5 kilometres (20.2 miles), the Donghai Bridge was completed in 2005, and connects Shanghai (above) to the Yangshan Islands in the East China Sea.
Most of the six lane bridge is low-level viaduct, but there are two cable-stayed sections which allow ships to pass, the larger of which has a span of 420 m.
Apparently the seemingly meandering path the bridge takes across the East China Sea was specifically designed to keep drivers more alert during their long crossing.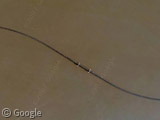 While questions have been raised over the financial logic of projects like the Donghai Bridge, China is rapidly emerging as the new Land of Long Bridges. China now has seven of the top twelve longest bridges in the world, all of which were completed in the last 5 years.
There's information about and a great picture of the Donghai Bridge available at Wikipedia. You can also read about the current longest cross-sea bridge, which will likely also have been superseded by the time we get to it.
Thanks to Lukas Nowacki and Tom.