Watching Me Watching You
Wednesday, 30th July 2008 by Rob
Google is in trouble. The company now has so much money that it's finding it increasing hard to spend it all - so as a first step has decided to employ a 2 car convoy to capture Street View images!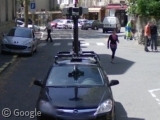 This means that we get a nice close up of the camera that is used, but strangely it doesn't appear to be the same as the ones that have been caught elsewhere in either Paris or London.
As has been widely rumoured, it's possible that this second car is separately collecting 3D imagery using a special laser camera (which bounces off nearby objects to create a 3D map, onto which the street view imagery can be laid).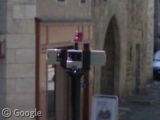 The two cars rather quickly split up though, so they were probably just setting off from the same place. Of course, there's always the possibility that new 720° imagery is just round the corner!
Thanks to streetviewfun.