The Homomonument
Friday, 18th July 2008 by James Turnbull
This is the Homomomomonument, er... we mean the Homomonument, in Amsterdam.
Unveiled in 1987, the humorously-named monument serves as a very serious memorial to the many thousands of gay men and women who were murdered during the Second World War.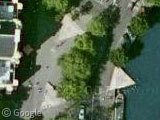 Homomonument consists of three pink granite triangles, which each form the point of one much larger triangle.
The eastern triangle steps down into the canal, pointing to the National War Memorial at Dam Square. The northern triangle points to the Anne Frank House, and finally the south-western triangle points to the offices of the Center for Culture and Leisure - the world's oldest continuously operating lesbian, gay, bisexual, and transgender/transsexual organisation.
More information about the Homomonument is available on the monument's offical website, as well as on Wikipedia.
Thanks to romulusnr.