Potala Palace, Tibet
Tuesday, 12th August 2008 by Alex Turnbull
This is the huge Potala Palace in Lhasa, Tibet, which used to be the winter residence of the Dalai Lama (the spiritual and political leader of the Tibetan people), until the current 14th Dalai Lama fled in 1959 following a Chinese invasion and the failed uprising that followed. The building contains the sacred gold stupas of the previous eight Dalai Lamas.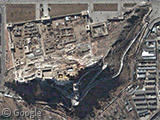 The 117 metre-tall palace is built at an altitude of 3,700 m, and measures 400 metres by 350 metres across. The thirteen storeys of building contain over 1,000 rooms, 10,000 shrines and about 200,000 statues. At the south base of the rock is a large space enclosed by walls and gates, where a series of shallow staircases leads to the summit of the rock.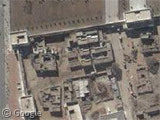 Since the Chinese Government formalised their occupation in 1959, most of historical Tibet has been known as the Tibet Autonomous Region of the People's Republic of China. To this day, human rights organisations around the world continue to accuse the Chinese government of persecuting and oppressing the local population, while the Chinese government maintains that Tibet has "ample autonomy".
Today the Potala Palace has been converted into a museum, and the Dalai Lama resides in India, from where he is head of the Tibetan Government in Exile.
The Potala Palace Wikipedia page has more historical information, and there's a wide range of excellent photographs available at Flickr. For more information on the occupation of Tibet, visit the Free Tibet website.
Thanks to Faine Greenwood, Krystal and Steve.