The Perfect Liberty Peace Tower
Tuesday, 19th August 2008 by James Turnbull
This bizarre tower is the Perfect Liberty Peace Tower in Tondabayashi, Japan, and from up here it looks like it might be constructed entirely from cotton-wool.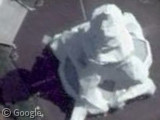 Completed in 1970 this incredibly oddly-shaped tower stands at 180 m, and was actually made by spraying concrete at a wire mesh. The irregular shape looks like a disaster waiting to happen, but is actually designed to be earthquake resistant thanks to its centre of gravity being set just 12 m above ground level.
The Peace Tower is part of the headquarters of Perfect Liberty, a "modern" religion whose motto is "Life is Art". Anyone can visit the tower, but apparently it's inadvisable as you will be approached to be "drawn into the religion". Perhaps for this reason, the Street View car kept its distance – the closest shot is from a passing motorway.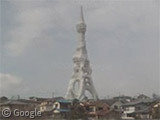 However, a local photographer has dared to venture up close, and has loads of pictures showing just how truly weird the tower is.
Thanks to adrbr.