Live Long and Prosper
Thursday, 11th September 2008 by Rob
This weekend, I was lucky enough to see the only flying Avro Vulcan in existence, yet Murphy's Law dictated that my camera should under no circumstances work. So, whilst this post was to be interjected with marvelous self-made photography, it will instead attempt to use the imagery that Google provides.
Thankfully, you have been gamely notifying us of all the Vulcans you could find, and we have built up quite a collection. There are currently less than 20 survivors, mostly in the UK.
Firstly, at Southend Airport, the Avro XL426 was the 44th of the 88 delta-wing bombers that were built, and this one entered service in August, 1962.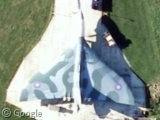 Since 1986, this model has been taken under the wing of the Vulcan Restoration Trust, who dutifully care for the old bird, and occasionally taxi her up and down the runway to stretch her legs. According to submitter Mark, the best view is to be had from the train line that runs right beside the airport.
The XM603 sits rather forlorn at Woodford Airfield, near Manchester, the once gleaming paint tinting to a lifeless green hune.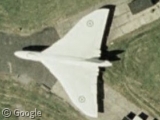 Information on this one seems difficult to come by, but message board chatter from 2006 suggested that the relic was to be broken down to parts. In fact, her death only served to make others stronger, including the XH558! This photograph shows her final resting place.
Once the United Kingdom's main deterrant against Cold War threat, armed with nuclear and, presumably, nerve pinch weaponry, the XL391 stands guard at Blackpool airport1.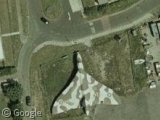 It was bought in 2004 on eBay for £15,102, but when the buyer realised he would have to pay another £20,000 to move it anywhere, they abandoned it where it was, sniff, scrapped in 2006.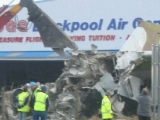 If you live in the United States, there is one at Castle Air Museum in California, a roofed one at the Air and Space Museum in Nebraska2 and finally one snuggled up next to a B-52 at Barksdale AFB, which also shows just how deceptively huge they are: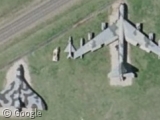 If you want to see the Vulcan flying, and happen to live near an airshow, there's still a chance this year!
Thanks: Eddy Rhead, Adam Sadler, Steve Wrona, Tim and Mark
---
Sharp readers may remember this mentioned when we visited Blackpool airport earlier this year, as it played host to the Red Arrows air acrobatic team. ↩

Another blast from the past, this is the home of the infamous "YOU, AMERICA MAKE PROUD!" motto. ↩