Offensive Ponds
Tuesday, 9th September 2008 by Alex Turnbull
Is that… the word "SLUT" carved into the ground of Nova Scotia?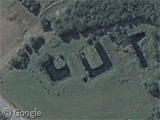 On closer examination it becomes clear that the "S" is actually a tree shadow – but the remaining letters look to be formed by the shapes of three small ponds.
Since "LUT" doesn't make a lot of sense, what if the "L" were actually a "C"? Why on Earth would anyone have built three ponds in the shape of the letters of the word "CUT"?
Thanks to hfx_chris.