Angelina releases updated Geo-Tattoo
Tuesday, 7th October 2008 by James Turnbull
Angelina Jolie was photographed this weekend sporting version 1.1 of her geocache tattoo.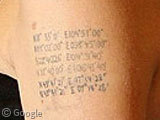 The original tattoo was four co-ordinates, each pointing to the birthplace of her existing four children, which we mapped on Google Earth last year.
The new additions are both N 43º 41' 21" E 07º 14' 28", representing the birthplace of new twins Knox and Vivienne.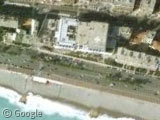 The lat/long specifically pinpoints Lenval Hospital in the French coastal city of Nice, where the children were born in July of this year.
Presumably she's going to have to stop collecting children soon, or she'll run out of space on her arms...
Thanks to SMH