Blog Blazers: 40 Top Bloggers Share Their Secrets
Thursday, 13th November 2008 by James Turnbull
If you've always dreamed of being a world-famous blogger, then you can't do better than "Blog Blazers: 40 Top Bloggers Share Their Secrets".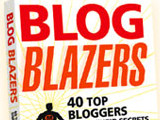 The just-released book by Stephane Grenier features interviews with 40 of the internet's top bloggers, including the finest of all bloggers James and Alex Turnbull (that's us!).
Packed with blogging tips, it will make the perfect christmas present (you know, for all those family members who already have the Google Sightseeing Book).
Available now on Amazon.com!