Fauld Explosion
Thursday, 27th November 2008 by Alex Turnbull
During WWII, the RAF used the old plaster mine at Fauld, England, as storage for up to 20,000 tons of ammunition. 64 years ago today, on the 27th November 1944, the underground ammunition store blew up. The explosion was to this day, the world's biggest non-nuclear explosion1 (Update: biggest non-nuclear explosion on UK soil).
Nearly 4,000 tons of ordnance exploded, and eye witnesses reported seeing two distinct columns of black smoke rising hundreds of metres from the resulting crater, which is still clearly visible today.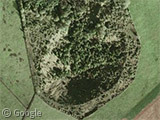 Although at least 70 people died as a result of the explosion, many of the men who were underground at the time actually made it to the surface unscathed. It was later agreed that the most likely cause of the explosion was an airman working on a bomb using a brass chisel – which produced a fatal spark.
Whilst much of the storage facility was annihilated by the explosion, the site itself continued to be used by the RAF for munition storage until 1966, and there are still a considerable amount of unexploded munitions buried below the crater.
The BBC has a story about the Fauld Explosion, Wikipedia has their usual offering, and I found an independent site that has a full history and lots of good photos, including this picture of a soldier loading bombs – which clearly demonstrates just how huge this explosion must have been.
Thanks to Chris Davey.