Guitar-Shaped Mansion
Wednesday, 26th November 2008 by Ian Brown
When this stunningly huge estate in Alabama was being designed, the owner must have anticipated the rise of Google Earth, because from down there it must be impossible to appreciate that the grounds have been landscaped into the shape of a gigantic guitar.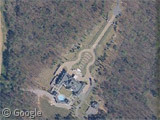 With a driveway lined with trees casting shadows to portray the frets on the guitar neck, terraced gardens shaped like the body of a guitar, and a main residence larger than many shopping malls, one could easily imagine this being the country hideaway of somebody living off the proceeds of a few number one albums.
However, it wasn't dreamt up by some megalomaniac rock star on an acid trip, but rather by the former COO of a scandal-plagued healthcare company. Because of his financial problems, Larry House was forced to sell the property in 2003 at a considerable loss, before construction was even finished.
Let's look at the numbers:
An estimated $26 million to build the estate;
4,645 square metres (50,000 square feet) of living space;
27 acres of land;
21 bedrooms and 22 bathrooms;
a 13-car garage;
a 25-seat home theatre;
a wine cellar for 2,000 bottles;
and despite the cost of construction and contents (including many antiques), it sold at auction for just under $4million.
A gallery of the buildings and grounds can be found here, and if this is too lavish for your budget, you could just go with a guitar shaped pool, as previously featured on Google Sightseeing.