Extreme Kayaking
Tuesday, 25th November 2008 by Alex Turnbull
Llyn Brianne is a man made reservoir on the River Towy, west Wales, which was formed by the construction of the UK's tallest dam, which at around 90m tall is the world's largest clay core dam.
Recently the BBC has uncovered that thrill-seeking kayakers have been sliding down the reservoir's spillway during times of high water, which probably makes this the world's largest water slide.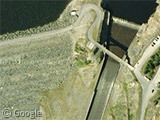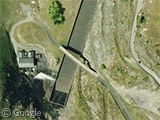 This "dangerous" activity has been banned by Welsh Water but, as this video on the BBC shows, it looks like one hell of a way to spend an afternoon.
At the time these images were taken the spillway was in full flow but apparently, at times of low water, a couple of houses that were submerged to make way for the reservoir can be seen protruding from the surface.
Thanks to VGT and the BBC.
More about the Llyn Brianne Reservoir Spillway at Wikipedia.