Salt Lake Weirdness
Monday, 10th November 2008 by Ian Brown
There are lots of interesting and weird things to notice around Great Salt Lake, the largest salt lake in the western hemisphere.
First up, the western shore of the lake houses something that appears to belong in a 'Trivial Pursuit for Giants' game. It's actually part of a magnesium plant which at one point was the highest emitter of toxic chemicals in the US.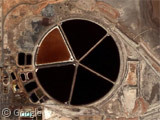 Just to the north-west are assorted military facilities including bunker entrances and missile storage sites.
On the eastern shore, and on the salt flats, are facilities using the natural resource from the lake - salt farms and mines. Many others can be seen around the lake.
A couple of people with sharp eyes found this plane flying over the middle of the lake.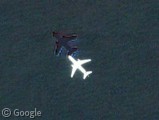 And one reader is convinced that this is a door to the netherworld.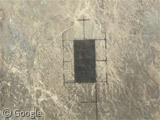 Let us know what else you can find around Great Salt Lake.
Thanks to Ben, Alex Cleveland, Marty, Brian, Benjamin, James Adams, Nathan S, Graham Wall, Noknok, Leandra.