The Cenotaph
Tuesday, 11th November 2008 by James Turnbull
Today marks the 90th anniversary of the end of World War I, which is being commemorated across the globe.
Earlier today, the 11th hour of the 11th day of the 11th month, there was a 2 minute silence held at the Cenotaph in London.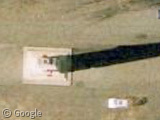 The Cenotaph was erected in honour of all those who died in the war overseas, and is saluted by all passing uniformed service personnel.
Today's remembrance ceremony was also attended by 3 of the 4 surviving British WWI veterans, who have an average age of 110.
Thanks to the BBC