Tarbela Dam
Thursday, 11th December 2008 by Ian Brown
Tarbela Dam, found on the Indus River in Northern Pakistan, is the largest earth-filled dam in the world.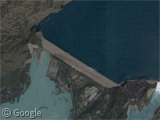 The dam was completed in 1976 as the result of a water-rights agreement between India and Pakistan. It is 143m high and almost 3km wide, for a total volume of 106million cubic metres of rocks and earth, making it one of the world's largest man-made structures.
It holds back a reservoir almost 100km long, though the capacity of the lake has been reduced by silt deposits, just one of many problems encountered by the dam's builders and operators.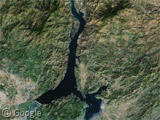 The water is vital to irrigation for farms in the area and power stations at the dam provide a significant portion of Pakistan's hydro-electric power (caution, vibrant text and background colour!)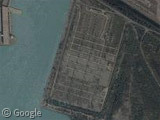 Zooming in shows us that it also makes the perfect backdrop for a large religious pronouncement, with Arabic and English text from the Koran reading And HE hath made the rivers for service unto you.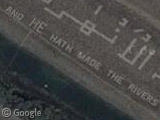 Thanks to Rashid and Syed for pointing us to the first Google Sightseeing entry from Pakistan. This was also our first 'large type' from the Koran, though we have had advice to read the Bible and of course, many dams.