Kyrgyzstan UFO!
Wednesday, 14th January 2009 by Ian Brown
Our first post from Kyrgyzstan is evidence of alien visitation to Earth!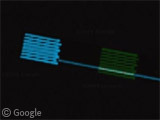 While skeptics may dismiss this as some image artifact or tape used to hold different images together, the presence of an image ghost (previously explained on Google Sightseeing) give definitive proof that this has to be an airborne object of unearthly origin.
What's more it leaves a some kind of vapour trail for more than 90km over Lake Issyk Kul, while its companion craft is found to the south east, just about to pass over the lake.
Thanks to Ryan Bowman and SpongeJim.