World's Longest Staircase
Friday, 30th January 2009 by Ian Brown
The longest staircase in the world can be found on the slopes of Mount Niesen in the Swiss Alps.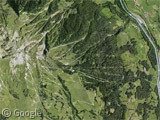 The 11,674 steps run alongside the Niesenbahn funicular which travels from the side of the Kander river in Mülenen (altitude 693m) to the terminus near the 2362m summit of Mount Niesen.
During the 28 minute ride, the funicular - which opened in 1910 - travels through lush Alpine woods, passes through several tunnels and across some elevated sections.
While the staircase is only used by service personnel, it is opened to 200 people for one day a year for the Niesenlauf stair run. The Galerien pages of the race's German site give you some idea of what an ordeal this must be - running through cloud, rain or even snow, though the race takes place in June.
The record for the event is 1h2m for men and 1h9m for women, which I find remarkably fast considering the number of steps is equivalent to climbing the CN Tower 4.5 times, or Taipei 101 almost 6 times or the Empire State Building more than 7 times, though it does look like some sections are somewhat less steep than others.
There appears to be a more conventional hiking trail for public use, with the number of switchbacks along the way giving some sense of how steep this pyramid-shaped mountain really is.
The mountain's visitor guide has some great pictures and information, and YouTube has a fast-forward trip up the funicular and a high-speed stroll to the summit.