The Moroccan Wall
Monday, 23rd March 2009 by Ian Brown
The controversial Moroccan Wall, or The Berm, is a system of 3m-high walls at least 2,500km long that was built to completely divide the entire country of Western Sahara.
Constructed by Moroccan forces between 1980 and 1987, Morocco considers the area to the west of the wall to be its Southern Provinces, and decided to protect them from Polisario forces seeking Western Sahara's independence.
The protected area was initially just a small portion of the north-western part of the country, but by building a succession of six different walls, the Moroccans expanded their territory to occupy the majority of the country.
The area east of the wall is called the Free Zone and is controlled by the Sahrawi Arab Democratic Republic, though refugees from the area currently live in Algeria. UN troops are active in the area attempting to enforce cease-fire agreements, though landmines are still a major problem. Polisario supporters have labelled the barrier the Wall of Shame.
The wall begins its journey to Morocco at the Atlantic coast, and on its way crosses mountainous areas, as well as barren, unpopulated desert – where it's often overrun by sand dunes.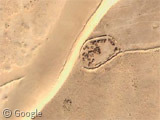 Despite these breaches, the combination of walls, fences, and bunkers makes for a formidable obstruction, thanks to manned observation posts – which in some areas are positioned as regularly as every kilometre.
These forward posts are supported by larger, more heavily armed posts, one of which we can see here next to an 'official' border post in the south. Elsewhere we can see what looks like the charred remains of another. I wonder what happened here?
More on the Moroccan Wall at Wikipedia.
Thanks to Chris.