Western Sahara Large Type
Monday, 14th August 2006 by Alex Turnbull
Despite Western Sahara being one of the most sparsely populated territories in the world (just over 1 person per square kilometre) Morocco and the Sahrawi Arab Democratic Republic (SADR) have been fighting since 1975 about who should control this territory.
Western Sahara has no railways and only 6,200km of roads, but they do have some rather cool large type which (according to our submitter) translates to 'Allah, the Nation, the King' – which by all accounts is the motto of the Moroccan Monarchy. It seems to be right next to some sort of encampment and looks to be right on the border of Moroccan and SADR territory.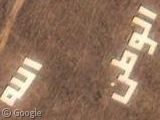 Spain was in charge here prior to '75, and over on nearby Gran Canaria there's an image of the SADR's version of the Western Sahara flag with text in Spanish that reads "Sahara Vencera", literally "Sahara Will Win". However, according to Flagspot this image might well be reversed from its intended direction… Suspicious methinks.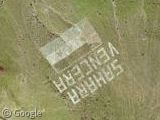 Thanks to Uri and Virtual Globetrotting.