Mazinger Z
Monday, 23rd October 2006 by James Turnbull
Mazinger Z is a giant manga robot who had his own anime show in the early 70s, and according to Wikipedia had a great influence on the Super Robot genre.
In this satellite photograph we can see a giant statue of Mazinger, standing proudly in a Spanish field. Nope that wasn't a typo ('Japanese' being quite a few keystrokes away) – this really is in Spain! But who built him there and why?
I'd never heard of Mazinger Z, but the show was a surprise hit in Spain, despite being edited down from the original violent Japanese version. A babelfish translation of this Spanish article might shed more light on the statue's origins…
The statue of the Mazinger was constructed 20-25 ago years, when they emitted the series by tele, so Mazinger is the guardian of our urbanization.
Umm, nope, that didn't help much. Loved the Power Rangers poses though.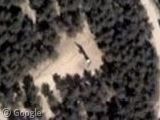 Thanks: Gumbor