Leptis Magna
Thursday, 28th May 2009 by Ian Brown
The spectacular Leptis Magna is an exceptionally well-preserved Roman city on the coast of Libya which has a history dating back over 3,000 years. Today the archaeological site is protected as a UNESCO World Heritage Site.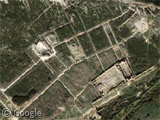 With a history dating back to 1100 BC, the city gained status as a leading part of the Roman Empire in AD 193 when Lucius Septimius Severus became the first African-born Emperor of Rome.
Although there are loads of ruins here, most of the prominent remains date from the first and second centuries, including the incredible theatre.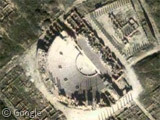 The theatre at Leptis Magna (ground-level photo)
Severus spent lavishly on new buildings for his home town as it developed into a major trading port, making sure he had an extensive market and a truly magnificent forum.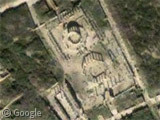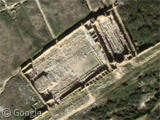 The market and forum at Leptis Magna
One of the major projects attempted during Severus's reign was the redevelopment of the harbour, which was known for heavy silting. However, the changes just made the problem worse. Many of the quayside buildings are intact but rather annoyingly a strip of low-resolution imagery obscures the harbour.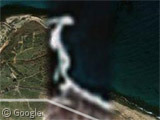 However the good imagery returns further east, just in time for us to be able to see Leptis Magna's wonderful amphitheatre - the location of amazing public spectacles, and the most prized symbol of Roman citizenship that a town could have.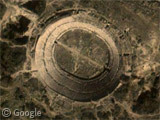 The amphitheatre at Leptis Magna (ground-level photo)
The city eventually fell into decline in the fourth century when trade moved elsewhere, but thanks to Emperor Severus and his ebullient spending, there remains an absolute wealth of history for people to explore in his once splendid home town.
Wikipedia of course has lots of info, but I recommend that you visit the Temehu site for excellent pictures and background, with a more detailed history to be found at Livius.org. Also see an earlier post on Google Sightseeing about the city of Sabratha.