The Island at Towan Beach
Tuesday, 19th May 2009 by Evan Brammer
A well known landmark to locals and holidaymakers is the little house that sits atop an island off the shore of Towan Beach in Newquay, England. Featured in many postcards, "The Island House", as it is known, has become symbolic of Newquay itself.
The Island has been used as a rather small potato farm, a chicken run, a Sunday School classroom, an art gallery, a guest house, and a tea room. However, today it is the home of the 4th Viscount Long and his wife Lady Helen.
To get to the Island House one must cross a 30-metre long miniature suspension foot bridge.
The footbridge was supposedly modelled after the suspension bridge in Bristol.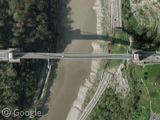 The Island was kept from being entered into Guinness as the "World's Smallest Full-time Inhabited Island" by a European Union directive in 2003 that classified islands as having at least fifty people living on them. So the Island House should actually be called the Outcrop House.
Lady Helen once quipped,
Being referred to as Lady of the Outcrop sounds like I have a bad case of chickenpox.