In Memorial of Pre
Friday, 5th June 2009 by Evan Brammer
Steve Prefontaine. His is a name synonymous with running; a name all of your running-junky friends are sure to be familiar with.1 In 1975, at the time he was struck and killed in a car accident, he held every U.S. track record from 2,000 to 10,000 meters. When he was dead-out sprinting there seemed to be flames coming from his Nikes. In fact, he was the first athlete to endorse Nike.2
Prefontaine, lovingly referred to as Pre by those that knew him and us that admire his abilities, so enamoured the sports world that there are many places that bear his name in memorial. Here are just a few of the memorial locations set up in and around the state of Oregon, including Hayward Field, which is the location of the annual Pre Classic, due to take place this Sunday, June 7th.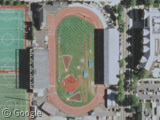 Prefontaine Memorial Park with Pre Rock
"Prefontaine Memorial Park" could be a contender for The World's Smallest Park, as it consists of not much more than one rock that stands near the site of Pre's car accident. The stone memorial commonly known as "Pre Rock" bears a plaque that tells the story of Prefontaine's death.
During the night on May 30, 1975, Pre swerved his 1973 Gold MG to avoid hitting an oncoming car. By the time emergency services had arrived, Pre was dead. Pre Rock is constantly covered in wreaths, notes, and U.S. flags; as we can see in this Streetview image.3
Pre's Trail
When Pre competed in Europe he came to appreciate the style and terrain of their cross-country courses, and wanted a similar experience for Tracktown USA4 runners. When he returned, he won over Eugene city officials to the idea who worked with U of O track coach Bill Bowerman to design and build it, with the trailhead being just south of Autzen Stadium in Alton Baker Park.
Pre's Trail Western Trailhead / Eastern Trailhead
The trail had yet to be built at the time of Pre's death. However, the city was able to finish the 5.5km trail within four months, just in time to be used in a memorial run that would see over five hundred runners come out to remember their friend.
Steve Prefontaine Memorial Hall
When guests arrive at the Nike Campus at One Bowerman Drive in Beaverton, Oregon they are ushered into Steve Prefontaine Hall. Pre is often referred to as the "soul of Nike" by founder Phil Knight because of his commitment to running and his intense desire to always come out on top. Within the Hall are many of Nike's newest developments, as well as individual pieces of memorabilia of Pre's and many other athletes that have worked with the company in the past.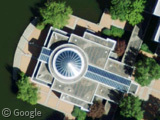 Several movies have been made chronicling Steve Prefontaine's life, and Hayward Field played itself in each of them.
You can also check out the the Prefontaine Memorial at the Coos Bay Visitor Center. Each year over 1,000 runners compete in the Prefontaine Memorial Run held there in his hometown.