The world's steepest streets
Wednesday, 3rd June 2009 by RobK
Obscure geography trivia time: where would you find the steepest street in the world?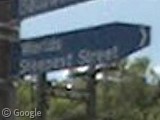 You might guess San Francisco. If you're a Guinness Book of Records-reading smart alec, you might say New Zealand. As it turns out, you'd be wrong - probably. In fact, nobody seems quite sure which is the world's steepest, and then there's the problem of what exactly counts as a street anyway.
But we've looked into it, got out protractors out, and can now reveal the not-quite-scientifically-verified Google Sightseeing Top Six World's Steepest Streets! And happily, the intrepid Street View car has struggled its way up (or down) all of them. Here they are, in reverse order:
6) Dornbush Street, Pittsburgh, Pennsylvania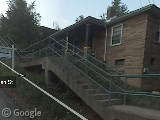 In the East Hills area of the city, this quiet-looking residential street has been surveyed at a 31.98% grade - that's a 17.7° slope. The Street View car missed out one section of the steepest part, which is one-way in the downhill direction. Check out the heavy-duty concrete staircase.
5) Maria Avenue, Spring Valley, California
Here's a prime example of the "We've got a grid system and we're damn well going to stick to it" school of city planning. Google's Terrain view shows how the north-south street pattern has been laid out with no regard whatsoever to the steep contours - in fact you have to wonder whether the planners had ever even visited the site!
Maria Avenue marches straight up the southern slope of Dictionary Hill, attaining a surveyed grade of 32% (17.7°) just north of Chestnut Street. This section of road seems to be paved with concrete, and is cut off from the section above: Street View leaps straight across the gap, missing out this part of the road. The next block to the east would have been even steeper - Buena Vista Avenue is shown on the street map, but the builders understandably admitted defeat there.
4) Baxter Street and Fargo Street, Los Angeles, California
We'll call this one a tie. These two streets are right next to one another in the Silver Lake district of LA, and both have been measured at 32%, but they get the nod over Maria Avenue on account of being altogether more exciting.
Baxter Street goes up and up and up... but then it goes down almost as steeply, giving the alarming impression that you're about to drive off a cliff as you approach the summit.
Fargo Street is much shorter - only one block - but that's plenty long enough for the cyclists who enter the annual Fargo Street Hill Climb. In 2008 one nutter rode up it 101 times in one day.
3) Eldred Street, Los Angeles, California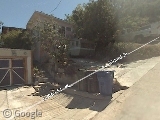 Just pipping Baxter and Fargo, with a 33% (18.3°) grade at its topmost end, LA's steepest is in the Highland Park area. It rises 67m over only 400m, which presents some interesting challenges for its residents, according to an entertaining LA Times article.
2) Baldwin Street, Dunedin, New Zealand
Despite being listed in the Guinness Book of Records (and having that sign at the bottom), Baldwin Street doesn't make the top slot. True, the top section attains an impressive 35% (19.3°) grade; true, it's quite a slog walking up, even with the steps at the side1; and true, sliding down it in a wheelie bin is a very bad idea; but it's not the steepest. Unless anyone else knows better, the winner is...
1) Canton Avenue, Pittsburgh, Pennsylvania
The signs at the top say "Do Not Enter", and in slippery conditions you'd do well to heed them. Canton Avenue, a short cobbled street in Pittsburgh's Beechview neighbourhood attains a whopping 37%, or 20.3°, gradient, making it the steepest public road in the United States - and, quite possibly, the world. This YouTube video shows what happens when you try and cycle up it, and this article in the Pittsburgh Post-Gazette has more photos, giving an idea what it's like to live there in winter. You can bet the residents of this house at the bottom of the hill are quite glad of that crash barrier out the front.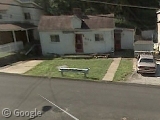 Honourable mentions
Here are a few other contenders that, for various reasons, didn't quite "make the grade"...
West 28th Street, San Pedro, Los Angeles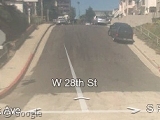 Apparently this is officially the steepest LA street, at 33.3% (18.4°, just pipping Eldred), but looking at it on Street View, the steep portion is pathetically short. Next!
Ffordd Pen Llech, Harlech, Wales
This lane, said to be the steepest in Britain, plunges down the side of the steep hill topped by Harlech Castle. Sadly, Street View hasn't reached rural north Wales yet, but there is high-resolution aerial imagery. The sign at the top claims it to be a 40% (21.8°) slope, but that seems dubious. And in any case, look at the sign just below the gradient warning: "Anaddas i fodur". Unsuitable for motors. Disqualified on a technicality...
Waipio Valley Road, Hawaii
Now we're talking: 45% gradient, or 24.2° - just look at those contour lines! Sadly, although this potential record-breaker is paved, it is restricted to 4WD vehicles - and in any case, it's out in the wilds of the north of the Big Island, and with no houses on it you can hardly call this one a street. Still, it looks like quite a drive, judging by the pictures on this page.
---
As your Google Sightseeing correspondent can vouch for from personal experience. ↩︎