Beijing South Railway Station
Thursday, 6th August 2009 by Alex Steinberger
Here in Beijing amidst multitudes of concrete high-rise office buildings, stands the ultra-modern Beijing-South Railway Station. The building was only completed in August of 2008, but is now visible on Google Maps thanks to this month's image update, which includes satellite imagery taken just over a month ago.
Beijing-South is the Chinese capital's hub for high-speed rail travel, and is Asia's largest train station.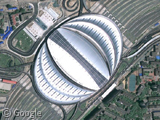 Upon its completion, the Beijing-South became the third passenger rail terminal in central Beijing, focusing on long-range inter-city travel. It replaced the comparatively minuscule Yongdingmen Station, which until 2006 had operated continuously for over a century.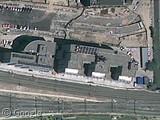 Resembling an airport more than a traditional passenger railway station, the new Beijing-South Station boasts 24 platforms with the ability to send 30,000 passengers per-hour1 zipping off to their destinations. The massive oval-shaped structure encompasses 320,000 square metres2 with a waiting area that can accommodate over 10,000 passengers.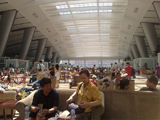 Designed to incorporate natural light as well as be environmentally-friendly, Beijing-South Station is a model of energy efficiency. Its central glass roof holds 3,246 solar panels that generate nearly all the building's electricity!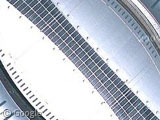 The station was designed in a joint venture between Tianjin Design Institute and architect Terry Farrel, creator of such notable works as the Peak Tower in Hong Kong, and for you James Bond fans, the SIS building3 on the banks of the River Thames, London.
Requiring 60,000 tonnes of steel and 490,000 cubic metres of concrete to build, the Beijing South Railway Station took a workforce of 4,000 less than 3 years to construct. Looking at Google Earth historical imagery from August 2005 and April 2007 gives a great perspective to the massive scale of this project.
For some great pictures of the interior of the railway station, check out this blog.
Thanks to the Google LatLong Blog.