The Fovant Badges
Monday, 3rd August 2009 by RobK
High on green hillsides overlooking the village of Fovant in Wiltshire, a dozen giant logos – some more than 50 metres across – can be seen carved into the chalk.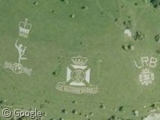 These designs date back to the first world war, when Fovant and the surrounding villages housed a transit camp for troops en route to and from the battlefields of the Western Front in France. In memory of fallen colleagues (and, no doubt, simply as a huge "Kilroy Was Here"), soldiers from various regiments painstakingly created representations of their cap badges.
Originally, there were many more badges, but nobody is quite sure how many have since faded away beneath the grass. Today, 12 remain, of which eight have been "adopted" for preservation by the Fovant Badges Society (due to lack of funds, four of them will not be saved).
The largest group of badges – nine of them – can be found on Fovant Down (they appear upside down on the aerial photos as they are carved on a north-facing hillside). They represent:
1. The Royal Wiltshire Yeomanry. 2. The YMCA (which was an important provider of welfare services in the transit camps).
3. 6th Battalion, The City of London Regiment. 4. The Australian Imperial Force badge (the "Rising Sun").
5. The Royal Corps of Signals. 6. The Wiltshire Regiment.
7. The London Rifle Brigade. 8. The Post Office Rifles.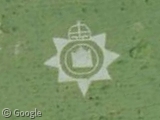 9. The Devonshire Regiment.
All these (with the exception of the YMCA) will be preserved.
Further badges, which sadly will be left to fade away, can be seen on nearby Compton Down and Sutton Down:
10. An enormous map of Australia, carved by unknown soldiers from Down Under. 11. The Royal Warwickshire Regiment.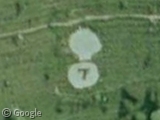 12. 7th Battalion, City of London Regiment.
Although the transit camps are long gone, there are still signs of a military presence in the area. The excellent Secret Bases website reveals that these mysterious shapes among the trees are the Fovant Wood Ordnance Depot, a munitions storage area for the nearby RAF base at Chilmark. That base closed down in the mid-1990s, although rumour has it that top secret goings-on still occur in and around the disused quarries…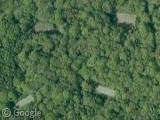 Read more at the Fovant Badges Society website.