Jutland's End
Friday, 6th November 2009 by Cédric
Where the North Sea meets the Baltic Sea1, there's Grenen2; a spectacularly unspectacular sandbank at the northern end of Jutland, the continental part of Denmark.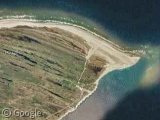 The form and position of the sandbank's tip can vary considerably over short periods of time, when waves3 and currents remove or deposit sand.
On the long term however, Grenen is growing by almost a kilometre (roughly half a mile) per century, slowly extending towards the north east. A closer look at the aerial picture shows distinct stripes in the landscape: successive layers of silt and sand that have accumulated over time.
Of great importance is the 46m (150ft) high lighthouse close to the tip.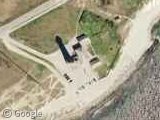 Despite the increasing use of advanced navigational systems, the lighthouse is still crucial to the safe passage of more than 100,000 ships that pass Grenen every year.
Due to its prominent position in between seas, the location has also been of great military interest for many years. What remains today are several very sturdy concrete fortifications and artillery positions built by the Germans during World War II.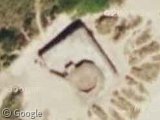 These structures are part of the huge Atlantic Wall project, a chain of coastal defences built by the German Third Reich that runs from southern France to the northern end of Norway. The Wall was never completely finished, and save its French parts never saw much use.
A little further to the south lies the "Tilsandede Kirke", or "silted up church". Built around the 12th century, it was the region's most important church.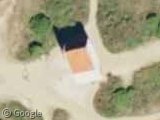 However, beginning in the 16th century, it had to regularly be dug out of the sand that amassed around it, and was finally given up in 1795. Its main building was torn down to reuse the building materials, while the church's tower remains as a historical site.
Grenen today is a popular leisure destination4 and a nature reserve, protecting the region's distinct vegetation including several kinds of orchids. It is also a popular site for bird spotters looking for passing eagles, ospreys, cranes, storks and ernes, amongst many others.