Street Circuits, Part 2: Australia
Monday, 22nd March 2010 by Chris Hannigan
Continuing our series on street racing circuits around the world, let's take a ride in the Google Street View Car around some of Australia's most famous venues!
Adelaide
The home of the Australian Grand Prix until 1996, Adelaide's streets in the East Parklands district transform into the 3.22 km Adelaide Street Circuit once a year for the V8 Supercar's Adelaide 500 race. The track's pit straight and paddock complex resides entirely within a horse racing facility at Victoria Park, and the rest of the track snakes through the city streets up and back south of Rymill Park.
Street view offers us pictures of a ride around the entire portion of the track outside of Victoria Park, minus all the retaining walls and grandstands. It's not hard to follow the track around because most of the circuit (like Speedstick Corner for example), because it looks like it was freshly repaved before the pictures were taken. Don't get lost running through turn 6 though, it's supposed to be a parking lot during normal business hours!
As a special treat, the Google satellite images appear to have been taken as the circuit was under construction, so we get to see a lot of the infrastructure that goes into making one of these events. You can see the runoff areas around turn 5 taking shape, as well as some grandstands being assembled along Brabham straight. The event usually brings in over 200,000 fans a year.
Melbourne
In 1996, Melbourne's Albert Park replaced Adelaide on the Formula One calendar and became the host of the current Australian Grand Prix. The temporary 5.303 km circuit runs on public roads around Albert Park Lake just south of downtown Melbourne, but a permanent, elaborate Formula 1 style pit building was constructed on the south end of the park. The actual racing circuit veers off the main public road in some corners to give drivers sharper turns and more overtaking possibilities. Like Adelaide, Google's satellite pictures show the Melbourne circuit in an early stage of construction.
The street view car makes a complete lap around the circuit as well, giving us great views of the track and the elaborate pit complex on any average day.
Australia actually has quite a few cities that offer street races throughout the year. The V8 Supercar series has been seen in places like Townsville, Canberra, Surfer's Paradise, and Bathurst. Now, with all the recent Street View additions in Australia, it's quite easy to turn laps at a number of these locations...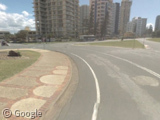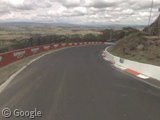 Turn 5 at Surfer's Paradise, and Bathurst's Mt Panorama Scenic Road
Our street circuit series will continue in the future with a look at circuits around Europe.